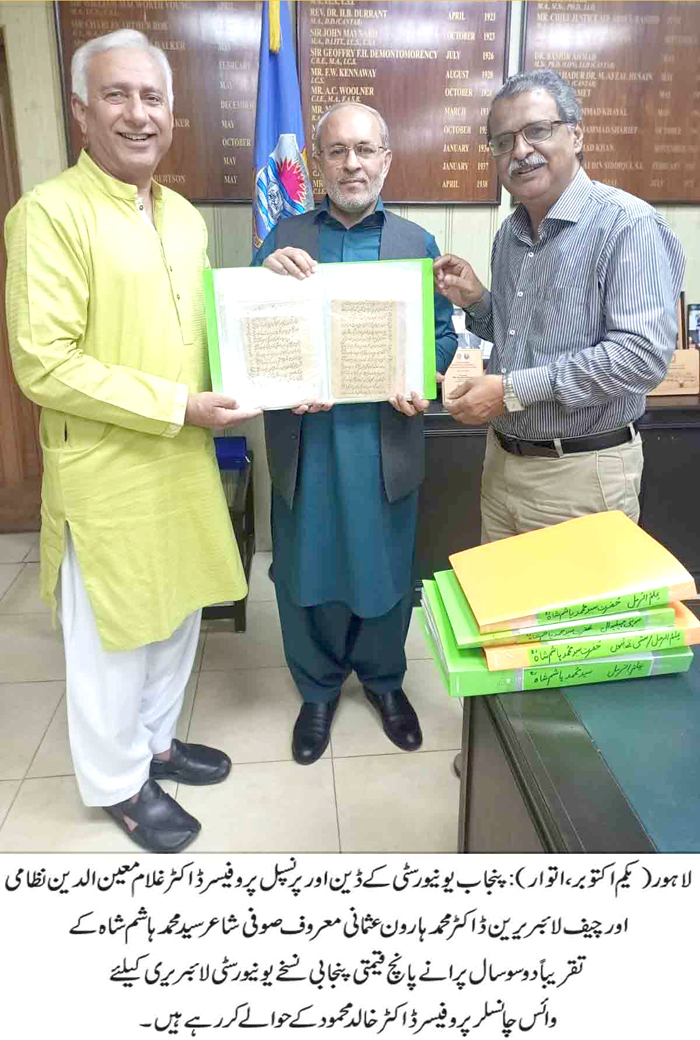 LAHORE: (Sunday, October 1, 2023): Punjab University Dean Faculty of Oriental Learning and Principal Oriental College Prof Dr. Ghulam Moeen-ud-Din Nizami handed over about two hundred years old five precious Punjabi Manuscripts of renowned Sufi Poet Syed Muhammad Hashim Shah to Punjab University Vice Chancellor Prof Dr Khalid Mahmood for PU Library. Chief Librarian Dr Muhammad Haroon Usmani and other were present on the occasion. These manuscripts are consisted of Ilm ur Ramal (Persian Prose) and famous Punjabi epic Sassi Pannu, Epic Sohni Mehiwal, Ilm ur Ramal (Punjabi), Dewrhrey (Punjabi Poetry). These manuscripts have been donated to Punjab University Library on the desire of Hashim Shah's heirs in Pakistan.
Hashim Shah was a Punjabi writer and Sufi poet who was born in 1735 while died in 1843. He was known for his story Sassi Punnun (or Sassi Panhu). His family migrated from Holy city Madina to Punjab, India, where they began living at Jagdev Kalan, the biggest village in Ajnala tehsil, Amritsar district. Hashim Shah was born in Jagdev Kalan and lived in that village his entire life. He wrote three stories "Kissa Kaw" named Sassi Punnu, Sohni Mahiwal and Shirin Farhad. His tomb is in the Thurpal Tehsil Narowal. Hashim, besides following the family tradition of hikmat (physician) and Piri-Muridi, also worked as a carpenter for sustenance. He left the profession of carpentry when Maharaja Ranjit Singh and his courtiers extended their patronage to Hashim. Thereafter, he devoted his entire life to spiritual attainments and composing Sufistic (mystic) poetry.
PU VC Dr Khalid Mahmood appreciated the gesture of Hasim Shah's heirs and efforts of Prof Moin Nizami. He said that these manuscripts shall be a good addition to the manuscript collection of PU Library and provide a great opportunity for researchers also.